WAATB?
 Doyle, with mild disgust, to Karl: "What are all them books?"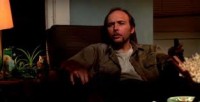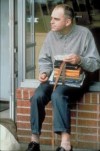 He Leadeth Me
 by Father Walter Csizek, S.J.
Truly one of the greatest books ever written.

Rising Road: A True Tale of Love, Race, and Religion in America
 by Sharon Davies
VERY compelling. Give it a shot!

10 Books That Screwed Up the World: And 5 Others That Didn't Help
 by Benjamin Wiker
Eye-opening and entertaining…but prepare to be in a grim mood by the end.

Catechism of the Catholic Church, Gift Edition
 by…the Catholic Church
Indispensible.

Bone Boxed Set Books 1-3 (Bone)
 by Jeff Smith
If you're into this kind of thing, it really is a treasure of a graphic novel.

Making Sense Out of Suffering
 by Peter Kreeft
A heavyweight champ that's light on its feet. It will knock you out.

Born Standing Up: A Comic's Life
 by Steve Martin
Why haven't you read this yet? Why?

The Godless Delusion by Patrick Madrid and Kenneth Hensley
Entertaining, well-presented atheism-debunkin' fun.    

 Finding God's Will For You by St. Francis de Sales
 A masterpiece.